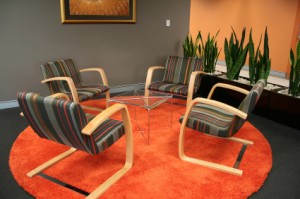 If you have an office where clients visit you, you may want to consider how rugs can actually make your business more credible. Drab offices that are not well decorated – or offices that appear to be decorated cheaply – do not make a good impression on your current or potential clients.
The key to selecting floor coverings for your business is to select ones that are suited to an office environment, without looking 'industrial.' Obviously, you want beautiful rugs, but you don't want anything that will assault the visual senses of you, your employees, or your clients.
Although your office should be comfortable from your standpoint, you may need to forgo your personal tastes when selecting ones that will be used in that space, and instead try to please the collective tastes of your clients. For example, if you love wild patterns and bright colors, this may be a great choice for ones in your home – but it may not be the best choice for use in your office space.
While many people use floor coverings to portray their sense of style in their homes, it is imperative that you portray your businesses sense of style, elegance, capabilities, wealth, or other attributes that you want your clients to feel, as opposed to your personal sense of style.
At the same time, you want affordable ones that work well with the type of business that you are in. For example, if you own a construction company, serviceable floor coverings may be the best choice. On the other hand, if you are a wedding planner, you might want some that are more stylish and pleasing to the eye – and of course you want your clients who will be depending on your sense of style greatly to see that you can give them what they need, using them and your office decorating as their visual example right from the start.