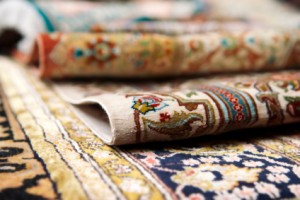 Rugs have been with us for centuries. Because of this, they have actually become an intricate part of our histories, and this is something that everybody ought to know about them. At one time had more than an aesthetic purpose.
They were originally used as coverings for the body. People wrapped themselves in furs and used furs for warmth when they slept. These furs eventually became what we know today as rugs. They were used in the smallest of shacks and in the largest of palaces in every country on the planet – for a variety of reasons.
While furs were eventually replaced with other materials they were all handmade, of course. Ladies of long ago designed and made great tapestries, and these tapestries were used as floor and wall coverings.
These ladies were our ancestors, and through the centuries, they passed their skills onto future generations – and although we have great machines that can do this work today, there are still many people in the world – male and female – that possess the skills necessary to make these great tapestries that we know today as throw rugs to cover our floors – and our walls.
When these handmade rugs are made, it starts with a great deal of artistic thought and design, a careful selection of materials, and an equally careful consideration of the weave that will be used. Finally, the creator – this artisan – constructs them with their own two hands, so that we can enjoy the beauty of their art in our homes and offices.
While machine made ones can be equally as beautiful, there is nothing like a handmade rug. The next time you purchase one, take the time to truly appreciate the creativity and the work that went into what will grace your floors, and also take the time to consider how the skill making them has been passed down through the generations – how much they might tie you to your ancestors.