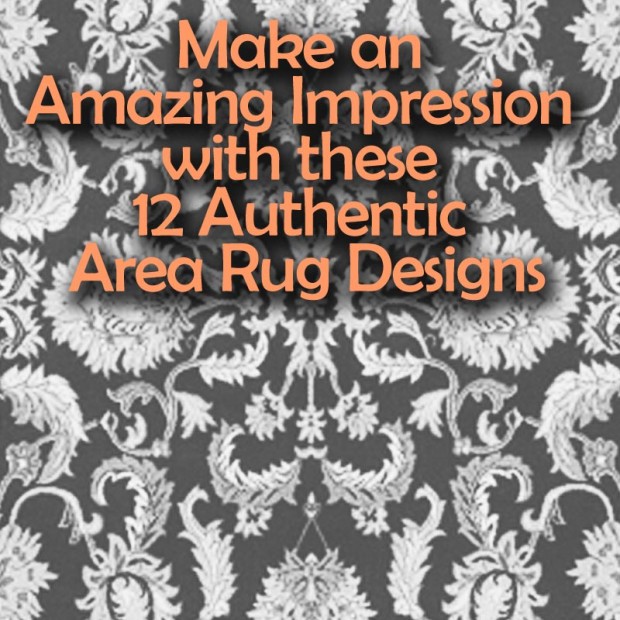 Want to make a great impression in any part of your home? Here are our top 12 favorite rugs in no particular order!
Go Round
One of the easiest ways to make an amazing impression is with a round area rug. People tend to think of rugs in only square or rectangular styles, so mixing up that impression with a round shape instantly changes the game a little. Best of all, it's easy to find round rugs in every color and style imaginable online.
Cut outs
A recent trend is featuring cut outs. More about style than function, cut out rugs create contrast between the color of the floor covering and floor below. It makes for a very sexy and interesting look. Many of today's cut out rugs are round, but you can also find rectangular cut-out types that look unfinished on the sides for a rugged, undone look.
Geometrics
Zig zags, Hounds tooth, Chevron stripes. These are just a few of the geometric prints that have recently become popular among home décor designers. Geometrics can look completely modern and fresh or harken back to the 1920's art deco sophistication. Find your favorite and combine with simple furnishings for a pulled-together look.
Textures
Portland-based designer Garrison Hullinger (@GHIDinc) suggests combining a mix of textures to create an inspiring entryway. One of Hullinger's many creations includes a foyer that combines scatter rugs and textiles with interesting, please-touch-me qualities. You can use this tip anywhere in your home by mixing up the textures of your throw rugs. Experiment with fabrics like shag, jute, and bamboo!
Classics
You can never go wrong with a classic Oriental, Persian, or Turkish area rug. Any of these choices will impress visitors with their timeless sophistication. Best of all, they easily match to and enliven a variety of furnishings.
Animal prints
Take a walk on the wild side by adding a touch of the exotic to your décor. Zebra, leopard, and even cowhide prints add amazing texture and will create a conversation piece in any room. Keep in mind though that the trick with any animal print is never to add too much of it. One piece goes a long way whether it's in your room or on your clothes!
Patterns
Pinwheels, polka dots, and swirls that remind you of the foam on top of a latte are just a few of the fun patterns today's modern market has to offer. Patterns can be especially fun in a child's bedroom and offer a sense of design to suit any color combo.
Contemporary
The word contemporary can have a lot of different meanings, but when it comes to modern styles, a contemporary style always lends a touch of creativity. When you add a great contemporary rug to your décor, you'll get great colors and patterns that instantly become a focal point.
Colors
Don't just go for color, go for Technicolor! Design isn't about being timid or afraid or staying within the lines, so to speak, it's about taking chances. So, don't be afraid to get really bold with pops of unexpected color that will enchant guests and enliven your surroundings. Think deep and brooding purple or electrifying orange. Your imagination is the only limit when it comes to creativity with color.
Metallics
Choose one that's been infused with reflective fibers and you'll infuse your room with a sense of movement and energy. Silver, gold, and bronze metallic tones look especially great in areas with little natural light and combine well with a variety of wall colors.
Whimsical
Bring out your sense of fun when you choose one that sparks a sense of whimsy in your décor. Whether it's a novelty theme featuring colorful vegetables for your kitchen or a fun print like The Rug Market's Kids Mod Birds for your daughter's bedroom, a sense of fun is never out of fashion in any décor.
Worldly
If you're a traveler or a traveler at heart, bring all the adventure of your journeys into your home with ones that whisper of far-flung locales. From Native American rugs to imitation Caucasian rugs, making an impression has never been easier than when you have a world of choices literally at your feet. Choose one from a region where you've traveled or wish to travel to someday to get inspiration.