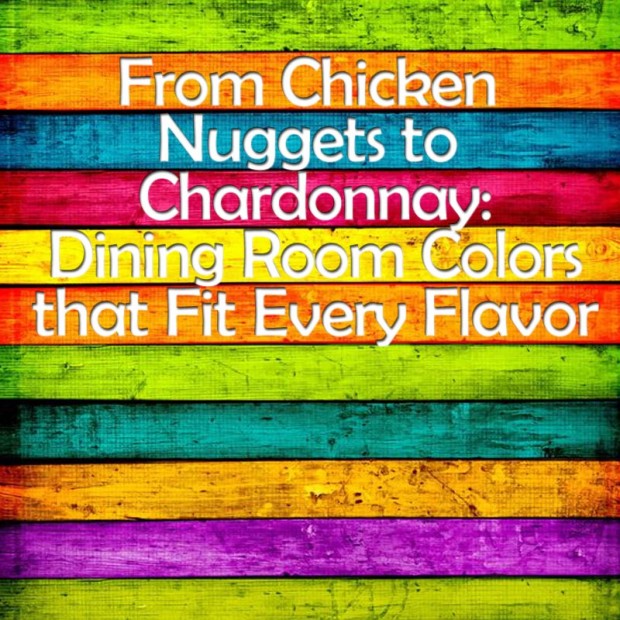 Whether you've just moved into a new home or you're simply looking for a new look, choosing colors for a dining room can sometimes present a conundrum. You want a place that represents who you are, but can also have a functional side appropriate for everything from chicken nuggets at lunch to Chardonnay at a dinner party. You also have to work with what you've got: dining furniture that can look overwhelming in a cluttered space or even swallowed up by the wrong setting. Much like a fine Oriental area rug would be out of place in a children's playroom, it's easy to let the scope of your dining room's decor get out of hand.
Read on to find out what colors to choose for your dining room and how to give it the style and class it deserves!
Choose colors that fit your family — Home Adore Magazine recently featured a whole-home renovation that took color cues and style from the family's four young girls.
A sense of symmetry flows throughout this home and features cheery, feminine-inspired colors that stay grounded with rustic touches, especially in the dining room. This space features chocolate brown flooring with a wood dining set that looks plucked from a French farm house. A soft sea foam green covers the walls with accents of white. The look is capped off with a chandelier reminiscent of lamp posts you might imagine finding on a quiet avenue in Paris. You can bring this look home by choosing elements like floral patterned area rugs that will at once protect your flooring (function) and provide color and whimsy at the same time (fun).
Indulge bold tastes – If you prefer bold flavors on your plate, why not bring them into your dining room's décor as well? If you have a formal dining set, spice things up by using pops of bold color like a red area rug. Incorporate bold hues like violet, cobalt, or even animal prints in your room's wall hangings, window dressing, and tableware. A dramatic and colorful centerpiece will also go a long way to infuse a sense of drama into the room. Best of all, when you need to use your table for something else, you can simply put the centerpiece away. Instead of painting with strong colors, keep walls a neutral shade to keep things from feeling too over the top.
Let the furnishings be your guide – If you inherited your dining set from loved one, it can initially feel a bit limiting when you're trying to fit another person's style into your home's décor. So many homeowners take a piece of inherited furniture and pop it down into a room with blank walls and un-inspired décor simply because it's not their taste and they don't know what else to do with it. You can steer clear of this by taking design cues from the piece itself. Try to imagine where your dining set would look its best. Is it a formal set that would look right at home in a Victorian mansion? Is it a simple, but well-made piece that makes you think of a house in the country? Visualize a great setting for your furniture and then decide how you'd like to bring that setting home.
Let a little light in – Since many dining room sets are made from heavy, dark woods, it's important to keep your room from looking weighed down by it. This is especially important in a smaller dining room. Incorporating reflective elements and natural light can be a huge help towards keeping the room from looking as heavy as last year's Thanksgiving dinner. If your room features one or more windows, use sheers to create a feeling of space and light. A round mirror adjacent to your dining set will provide a geometric element while adding a sense of openness and space.  Finally, don't be afraid to use a palette of wall colors that will support that feeling of natural light. A common mistake among homeowners is to paint walls white when trying to evoke a sense of space. This can actually make a space feel even more claustrophobic. Choose soothing light greens, dreamy sky-inspired blues, or a soft khaki instead.