Accessories give you the ability to design a space that is as personal and individual as a fingerprint. Rooms within a home do not have much character, until you add a personal touch. Without accessories each room is four walls with a few pieces of furniture. Adding personal items that represent your taste and style create a unique space for you to enjoy. These personal touches can include throw pillows, pictures, vases, lamps, area rugs and other items, which create a space that reflects your style and what is important to you.
---

Versatility
Versatility is one of the biggest advantages of accessories. They have the ability to completely match your personality and style to transform a room or space, and make it feel like home. They are easily changed and modified to grow with you and your family. Life is a journey and part of that journey is displayed in your home. When your family is young you will decorate differently than when you have teenagers or no children at home. If you have pets as part of the family, this can be reflected in the designs you choose. Selection of accessories can include differences in both the style and the materials that are used in decorating the space.
Affordability
Accessories range in price from a few dollars to several thousand dollars. When bringing together a room design with personal touches consider how long you will want to keep the style. It is worth an investment in a few expensive pieces if you will keep the room design for many years. In areas like a child's room where they are likely to outgrow the scheme quickly, sticking with affordable pieces is the best option. This strategy allows you to create a new look in a room or space without spending a great deal of money. Adding a splash of color or pulling an overall theme together can be accomplished with a few well places accessories.
Flexibility
Flexibility and the ability to change the feel of a room by simply changing the personal touches. When furniture is purchased it is meant to be lasting. This establishes the bones of the space. Rooms can often maintain the same furniture and yet completely transform the feel of a room by changing out either all the accessories or a few key pieces. A room can be converted to a more formal or a casual space based on the chosen accessories. Color schemes can also make a dramatic impact on a room with a few well-chosen design pieces.
Completes the Room
A room with very few personal accessories can make a room feel stiff and cold. Adding items that create a style gives the room personality. Whether it is to create a formal feel, a homey feel or something in between. The pieces you choose to decorate the room with, will bring the space together and give it a finished look.
---

Area rugs are an affordable and versatile way to enhance the interior design of almost any room or space. They can be used in both indoor and outdoor applications. Add a rug to a formal living room or dining room and give the room a sophisticated feel. You can add a rug to a child's room or game room for a casual feel to the space. The color schemes can either pull the room together with neutral colors or create an accent piece through the use of bolder color schemes. In every application the use of area rugs creates a warm and inviting feel to any room where it is placed.
Area rugs are a fantastic way to bring life into any room or space. Whether your intention is to enhance color schemes, create a center piece to tie a room together, add a unique conversational piece, or spice up the kids room. They are so versatile and come in an endless selection of colors, patterns, designs, and materials. Finding an area rug that fits into your room or space is no challenge because of the large variety that is available.
In the last decade there has been a significant increase in the popularity of hardwood and laminate floors used throughout a home. These are no longer relegated to a formal dining room but are used in every room of the home. Especially in living areas, hallways and even bedrooms. Tile is still popular in kitchen and bathrooms, leaving the home with virtually no floor coverings. Customers love the look of hardwoods and the openness it provides. Hardwoods and laminate flooring is also easier to clean. It is a good choice for families with children and pets, and those with allergies.
The downside is that hardwood floors carry sounds, amplifying every noise. They can also create a cold feel to a room rather than the warm and comfortable feeling wall to wall carpet provides. As a result area rugs are seeing a new upswing in interest by both designers and homeowners. This provides the warmth of rugs, with all the benefits the hardwood or laminate flooring has to offer.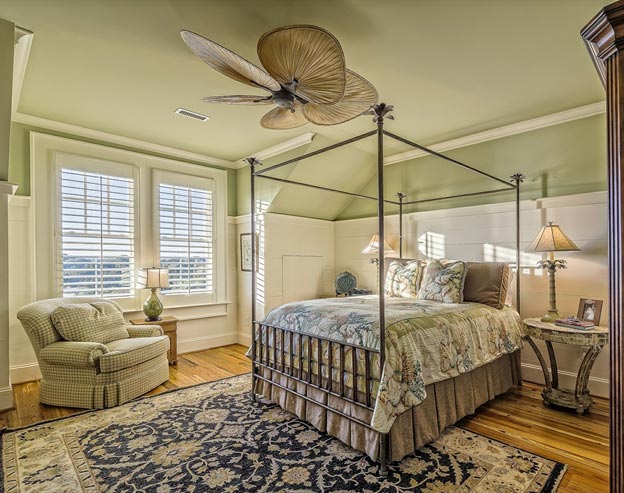 In this example the area rug is used to pull the room together. It is placed partially under the bed making it easier to clean. By going to the door it brings the sitting chair into the bedroom space and creates a warmer room than if the room was solid hardwood flooring. The colors do not match the bedspread or furniture, but rather compliment them.
For bedrooms selecting a rug that is warm and comfortable to walk on will create a welcoming feel to the room. Wool and silk material are often used in bedrooms as the material is both inviting and relaxing.
Here is an example of a neutral colored rug adding dimension to the space. The leather sofa provides a very comfortable seating area, but can appear formal or welcoming based on the accessories used. Here adding the rug beacons to the owner to come and stay a while. The neutral design pulls all of the pieces of furniture together. The rug also helps define the space as a welcoming sitting area.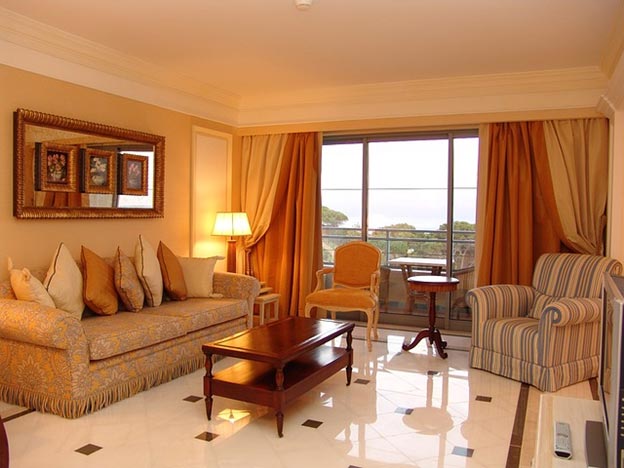 This example does not have a rug piece to warm the space. Even though the furniture is not particularly formal, the lack of a flooring piece creates a more formal space that is not as inviting as the one above with the area rug. There is also not a defined area which gives a more welcoming and warm message in the design.
---

There are two trends that impact the use of rugs in living rooms. This is the open concept, which creates one large room that is used for multiple purposes. The other is a more casual home that often does away with the formal living room and dining room and replaces it with play rooms and entertainment rooms. Area rugs serve both of these concepts well.
In large rooms you can use multiple rugs to define and separate spaces. For more casual rooms, select a rug with a casual feel or even a whimsical design. There is a wide variety of rug selections that range from very formal hand woven designs to inexpensive machine made designs. This increases the versatility and what can be accomplished from a design perspective in the room. As living rooms have become more casual and practical, the use of area rugs will complement your accessory choices.
These area rugs come in various shapes and sizes and can be used in many ways. There are general guidelines on how to select a size or style for your space but really there is a lot of leeway and creative license when determining what material and size of rug you want for your space.
Here are some common ways that rugs are used: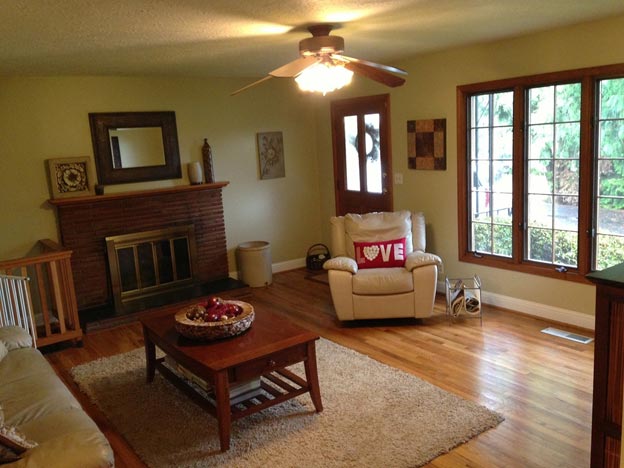 In this living room the rug is placed in from of the sofa and in between the sofa and the chair. Rug size and placement can be in the center of a room, as in this photo. When used in this manner the rug can be an effective centerpiece. This family could have placed a dramatic design with bold colors and completely changed the look and feel of the room.
In the previous photo above, the rug was placed in front of the sofa but with the front two feet of the chair on it. Some choose to put the first two feet of the sofa on the rug. When furniture is placed with the rug either partially or wholly under the rug is creates a warmer space, than when it is not under any of the furniture, as seen here. This room has more of a cozy feel that the living space with no floor covering, but less of a cozy feel that the living room where the chair is placed on the rug.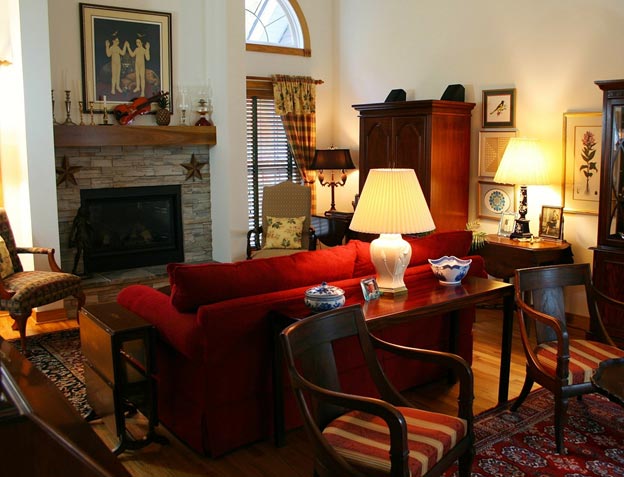 In this photo there are two rugs which are used to help separate the space. It helps to define the area. You will notice that the color schemes for the rugs are similar but the size and designs are different. It is not necessary to match designs when using two pieces in a single room.
Another common application for two pieces would be in the open concept living and dining rooms. Similar guidelines would be used in that application.
In this example, in both sitting areas the chairs are placed on the rug either completely or the front two legs. The placement will determine the size of rug that is needed to complete the space.
Much creativity used in this application. The design selected can complement the furniture or other accessories. The material and design chosen will determine if this room feels formal or casual. It is also possible to take rather neutral furniture and bold color rug selection to create a centerpiece for the room.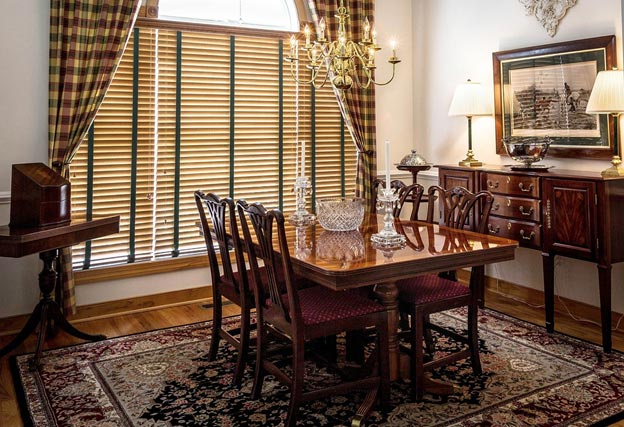 In a dining room, it is recommended that the rug selection be large enough to cover the entire table, all the chairs, with room to pull out the chairs, while remaining on the rug. If the rug is too small for the table it will look out of place and when the chairs are pulled out, and end up off the rug, it can create an un-level surface for sitting.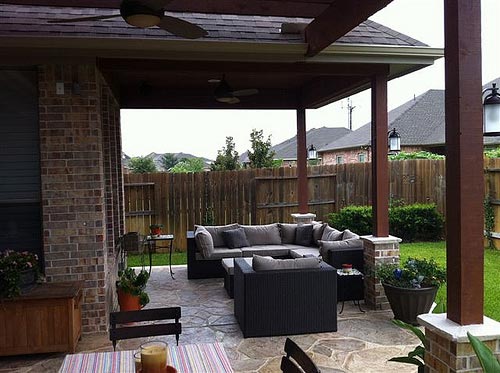 (Image source: https://farm8.staticflickr.com/7151/6461986317_281b557c8d.jpg
Outdoor living has become extremely popular and outdoor decks, patios and living spaces are becoming more sophisticated than ever. As a result there has been an increasing demand for rugs to be added in those spaces. Manufactures have followed this trend and are now offering a wide range of indoor outdoor area rugs.
These pieces are designed specifically to be placed outside. They are made of materials that are water resistant, as well as mold and mildew resistant. They often come with special backing that keeps water ways from the rug fibers so they will last even though they are exposed to the elements.
Some outdoor rugs also feature UV stabilizers which reduces color fading from the sunlight. The outdoor designs often have natural colors and are made from natural materials to complement the outdoor décor.
---
It's easy to see the many benefits of attaining an area rug, and who doesn't want to enhance an area in your home or office. There was a time when area rugs were a luxury item and only a few could afford the hand woven designs. These masterpieces still are available and can create an heirloom piece that will be cherished for generations.
Yet the rug market has changed dramatically with the introduction and improvement made to machine made designs. This gives a look and feel that is similar to hand made pieces without the high price tag. These machine made rugs will not last for generations, but the designs have become very affordable and enables everyone to be able to enjoy the comfort and styles that they provide.
How affordable are they? Is this something you can fit into your budget? Absolutely! These rugs are more affordable than ever with some of the show stopping offers that Boldrugs.com is now providing for its customers start as low as $36. The price is determined by the size selected, the material, and the designer. Many stylish rugs can be found under $100 and are now more affordable than ever.
Here you can see an example of a beautiful contemporary rug starting at only $55.00 (as of November 18, 2014 – pricing subject to change):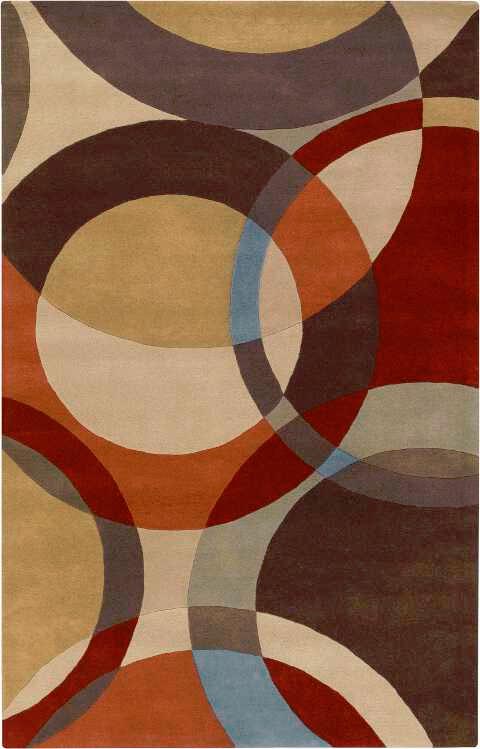 This traditional Surya Cosmopolitan rug also starts at just $55.00 (pricing subject to change)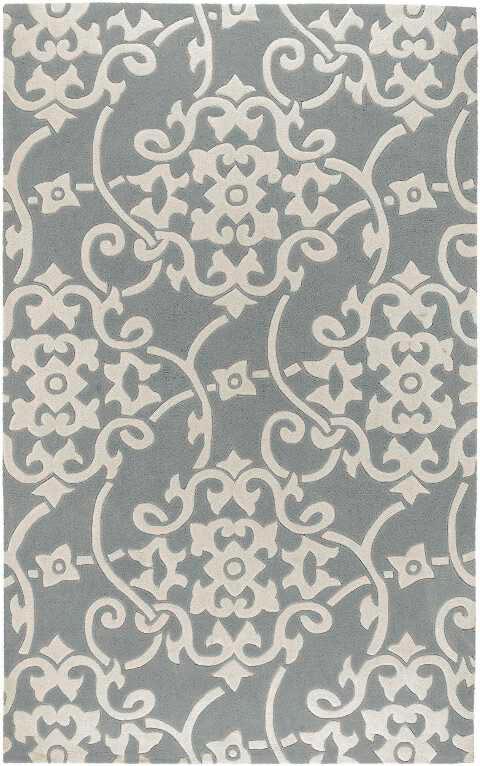 No matter what your price range is, BoldRugs.com has a way for everyone to save money and still get the great quality and product you are searching for, making area rugs affordable for everyone!
---

Maybe your wall to wall carpet has become older and now lacks the comfort it once had, an area rug can be placed over the existing rug as the perfect solution. This is especially helpful for renters who do not control the choice of flooring. It is a way to create comfort and personalized space in an otherwise neutral home. Landlords will not typically allow a renter to paint a room, so renters are required to be more creative. Using accessories to liven up your home will allow you to show off your style without changing the walls or flooring of the room.
Cotton, wool and silk rugs, or combinations of these materials, create a warm and comfortable feeling under foot. There are also many natural fibers that can provide a comfortable and beautiful addition.
This area rug is made entirely of wool and art silk for maximum comfort and also happens to be extremely stylish with its contemporary nature and modern feel.
Here is another example of a beautiful piece built for both looks and comfort. This is made of cotton and can provide excellent coverage of even the largest rooms. Cotton is one of the most popular rug materials available. They are very affordable and come in a wide range of piles giving it universal usage.
Lastly is an inexpensive and stylish hand woven rug composed of sea grass for a whole new level of comfort and design. The all natural fibers hold up to heavy traffic without looking worn. The material is also great for those with allergies as it does not trap dirt and dust.
---

It's easy to say that area rugs fit anywhere. Where and how are the best places to use these versatile accessories?
The most common shape of an area rug is the rectangle. As most rooms are square this shape fits in most spaces effectively. Rugs can also come in round, oval, square and other unique shapes. Selecting the right shape will be determined by where the rug will be located, the size and shape of the room as well as the furniture.
With odd shaped rooms round and oval shaped rugs will soften the space. Some rugs comes in the shape of an animal hide which can be used as a throw over furniture or at the foot of a bed. Formal high end rugs are used as wall hangings in the place of pictures. This is especially true of expensive hand woven heirloom pieces.
Here are a few examples to show you how certain rugs go into certain spaces, and where they best serve their purpose.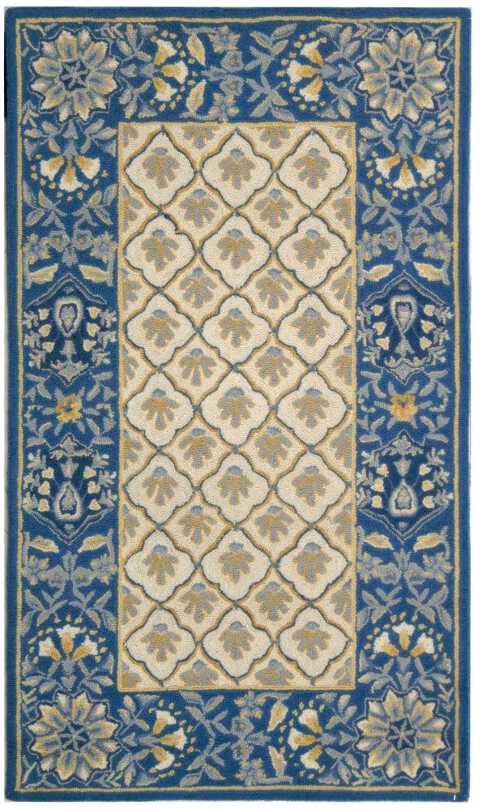 Rectangular rugs can be found in every room. Long rectangular styles are known as a "runner." Its long and elegant rectangular shape allows maximum coverage with a traditional style that would be an excellent addition for hallways. These pieces are built for high traffic areas. When selecting a size it is best to leave a border around the hall creating a frame like look. Where the rug serves as the inside of the frame and the flooring frames the rug's design.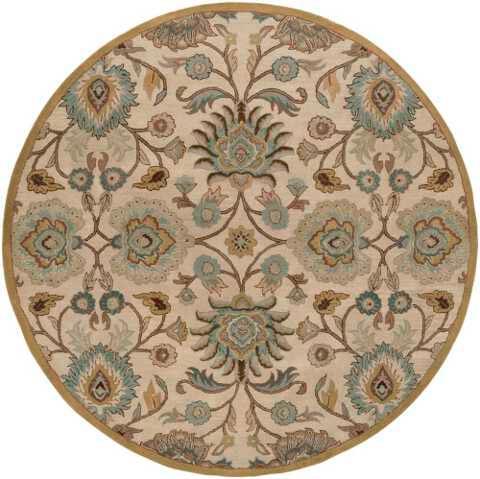 Round area rugs such as this are perfect for smaller spaces. Its shape and darker tones are great for tying together or accenting smaller spaces such a bathrooms, kitchens areas, or home offices. These smaller area rugs provide just enough coverage to add a comfort and design pieces to your room without over whelming the space or bringing to much color into the mix.
Another great place to utilize this versatile accessory is children's rooms. They can be changed out as the child grows, but also helps to create or emphasize a theme to the room. There are designs for children of all ages for both bedrooms and playrooms. Selecting bright vibrant colors will provide a place the child will want to be in. Starting at even the youngest of kids this hipster themed rug is ideal for infants, and toddlers.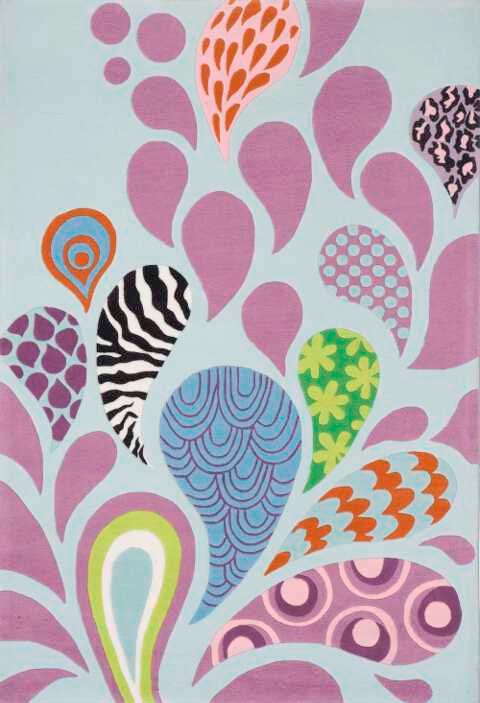 Or perhaps this cool snowboarding area rug for an older child who enjoys sports.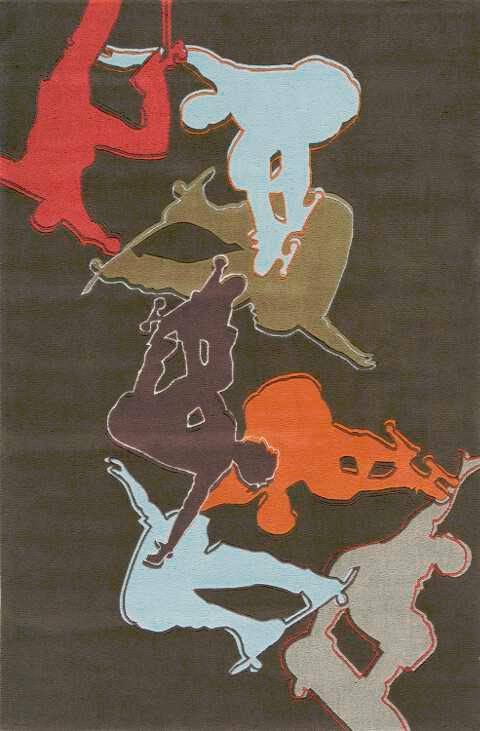 These make a perfect additions to a child's bedroom or play room. They have bright colors and images for children to enjoy. It also creates a high level of personalization on a budget.
Accessories make the design. They add personalized items that show off your interests and styles. There is such a large selection of designs that meet every taste and every budget, making this an accessory that can be used frequently. As your tastes grow up, your selection of accessories can be made to match your changing needs. Area rugs are so versatile there's really no limit to what you can create with them.