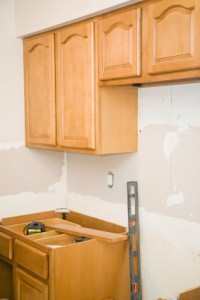 A kitchen remodel is perhaps one of the biggest undertakings a homeowner will ever experience. Between new counter tops, appliances, cabinetry, fixtures, and flooring, the price tag attached to that remodel can sometimes become astronomical.
So how does an average homeowner with an average income afford to have a nice-looking kitchen? Average homeowner gets creative. Here are a few simple ways you can update your kitchen's look without an expensive remodel.
Start with the Cabinets
Your first stop is to repair any obvious problems. Reattach any hanging or broken hinges and replace lost or damaged door pulls and knobs. Broken or chipped glass panels in glass-front cabinets can be repaired simply by ordering a new, inexpensive sheet of glass cut to fit.
If you have gouges or cosmetic damage to your cabinet's wood, you can try repairing these areas with an epoxy wood repair kit or cutting and staining a small patch of the same type of wood. You'll want to stain and sand both repairs to match the cabinet's surface. Smaller nicks can be filled in with plastic wood filler that you can pick up at your local hardware store.
Now, take a good, long look at your cabinets and think about what it would take to make yourself fall in love with them. Would you like them better in a different color? One of the cheapest and easiest fixes for this problem is simply to paint them. Dark cabinets can go white in an afternoon and outdated yellows can go dark and sophisticated with the right paint.
If your cabinets simply look too outdated to benefit from painting or staining, consider ordering new, unfinished door and drawer fronts to fit your existing cabinetry and then painting them to suit your décor.
For an even quicker fix, you don't even have to go this far. Simply drop by your local home improvement store and pick up new drawer and door pulls. This will instantly change the look of any cabinetry. If you have exposed hinges, don't forget to buy those to match.
Countertops are a Slightly Trickier Fix
Water damage, scorching from hot pans, and dents and dings can make countertops unsightly. Deciding to install new countertops is a major investment, but the good news is many types of countertop can now be resurfaced.
For a fraction of the cost of new counter-tops, a skilled crafts-person can refinish formica, Corian, laminate, tile, and even granite counter-tops. They can repair chips and dings, take the top back to its original shine, or change the look completely with a new color or edge. It takes just days to refinish or resurface a counter-top as opposed to the weeks you might wait on new ones.
Next Stop: Walls and Flooring
This is another place where paint will become your best friend. If you've lived for too long with outdated wallpaper or walls that have just seen a few too many greasy dishes, see this as your opportunity to divide and conquer.
As with any major home décor update, you don't want to go overboard with color if you plan on selling your home in the near future. Some classic kitchen colors? Those that take us back to nature – rich terra cottas, earth tones like green or tan, and sleek stone-like hues.
Give your walls and floor a bit of color by using accent tones to brighten up the neutral color you've chosen for the walls. If you're not crazy about your flooring, a new area rug is an inexpensive fix that will draw your guests focus to it instead of your floor. A rug that can handle a lot of foot traffic, such as a bamboo or sisal rug, is always a good choice for a kitchen. Be sure to pick a pattern and color that both compliments your décor and will feel good under your feet. Remember, you'll spend a lot of time standing on it in front of the sink or stove.
From there, add a few creative prints or wall hangings that not only spice up your walls but also put guests in the mood to chow down. While bistro-themed prints have been popular in the past few years, try to think outside the proverbial box. Maybe your ideal dining scene is a little more Latin – decorate with brightly colored ceramic pots and wall hangings. If you love sushi, maybe Asian décor is more your thing. Look for prints featuring Japanese alphabet characters or photos of the Far East.