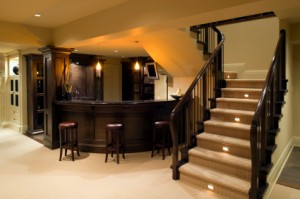 It's down there. Lurking in the dark, waiting for you. It's damp and drafty. Sometimes strange noises find their way out of it and up the stairs. "Help me," it cries out. "It's lonely down here!"
If your basement could talk, is this what it would say? If you're living in a home with an unfinished basement, it just might. Too many of us move into a new place and leave the basement for one of those "someday" projects. If you'd like to turn that space into something other than extra storage, read on for some quick ideas to take it from drab to fabulous.
Cover up those Walls
The hallmark of most unfinished basements is block wall. It's your foundation and it's necessary, but it's not the prettiest thing to look at. A quick and cost effective way to cover up these cinder-blocks is with basement wall paneling.
At 3 inches thick, basement wall paneling systems are made from fiberglass insulation and cement board. More hypoallergenic than wood-framed walls and better at protecting against mold than drywall, these panels include insulation with an R value of 13, wallboard, and a finished wall surface. They snap in place using battens that match with the surface and don't even require painting.
If you decide later that you want to remove the panels or rearrange the look of your basement, simply snap the panels back out and move them.
Get Cozy Underfoot…
Now that you've covered up all that cinder-block, it's time to talk about flooring. Just like with your walls, you'll want to take caution to choose a material that will protect against moisture and mold. Depending on the look you want and where you live, this could mean tile, carpeting, laminate, or hardwood flooring. If you live in the north, consider installing in-floor heating to keep those snowy nights toasty.
If you have a large space, consider choosing one type of floor and breaking up different areas of the room with area rugs. It's an easy way, inexpensive way to create defined spaces for specific purposes – like separating an entertainment area from a home office.
Check out these gorgeous rugs from Momeni's New Wave collection. They're sure to give your formerly drab basement the style update it needs.
…And Overhead Too
Don't forget about your ceiling. Most basement re-modelers recommend using drop ceiling panels. They're an easy way to cover up exposed piping, air ducts, and other household mechanicals, but still have a way to reach them if necessary.
Drop ceiling panels are also an easy solution when it comes to installing lighting. This is important because, if your basement doesn't have windows or has just has a few that don't let much light in, lighting is your best defense against that cave-like feeling so many basements have.
Try to go for an "ambient" feeling with your lighting strategy. You can choose track or can lighting for the general gathering area, but use accent or "task" lighting in spaces that need a little more help like over a special wall hanging or over a computer area.
Let the Fun Begin
Now that you've got the basic frame of your basement down, it's time to decide what sort of activities you want it to be used for. Maybe you'd like to turn it into a small apartment, complete with a bedroom, bath, and small kitchen area. Maybe you've got kids and want to turn it into their dream playroom. Or divide the space up like we mentioned earlier and let it serve as your office-slash-TV Room-slash-home gym all at once!
Maybe you'd like to do something different all together. Let the man of the household turn the basement into his own personal "man cave" complete with big, comfy leather couches, a pool table, bar area, and putting green.
Use it as the perfect home for your flat screen and cozy sectional recliners (cup holders included!) that beat a trip to the best movie theater in town. You can round out your room with a popcorn maker, candy machine, and velvet curtains just like at your favorite movie house.
Whatever you decide to do, we guarantee you won't regret finishing your basement. It will add value to your home and provide a great place to gather for years to come.