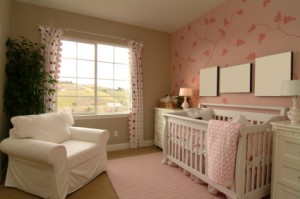 Having a baby is one of the most exciting and life-altering experiences a person can go through. But for a homeowner, it presents a whole new set of challenges. Some parents-to-be know precisely what they want their nursery to look like and tackle nesting with the efficiency and style of pros. Others, like the majority of us, don't have a clue where to begin.
Neutral Color Themes
If you shy away from the traditional, "blue for boys, pink for girls" motif, have no fear. Here are a few ideas that should get those creative juices flowing and have you on your way to creating the best nursery on the block in no time at all.
For Future Bookworms
Start a lifelong love affair with learning with an alphabet-inspired nursery. For inspiration, take a look at Momeni's Lil Mo Classic area rug in pale yellow.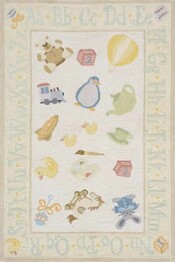 With teddy bears, tea pots, penguins, and space ships, it's appropriate for either a boy or a girl's room. The greens, blues, pinks, and other pastels that make up this item's color scheme make it easy to match coordinating paint or wallpaper. And the alphabet border will encourage growing brains to recognize the shapes of letters.
To complete this look, choose white or oak furniture. Use wooden block letters or even alphabet blocks as shelf or dresser-top decorations. Find quotes from books you remember loving as a child and use stencils or decals to print them on the walls. Ask friends and family members to bring their favorite children's book to the baby shower to add to your child's growing collection.
For Future Green Thumbs
Moms and dads with a love for nature or gardening can pass their passion on to the next generation with a backyard fun theme. Start with light green walls and brown or beige flooring. Add decals or paint trees, flowers, and friendly bees or dragonflies on the walls as accents. After the birth, add butterflies or ladybugs for a girl and maybe frogs and caterpillars for a boy to complete a fun mural.
Dark wood furniture like cherry or walnut can add a woodsy feeling to this décor. Choose bedding and window treatments in a soft yellow or white.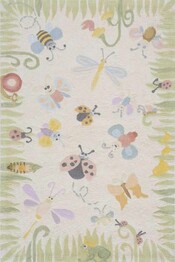 Momeni's Lil Mo Classic area rugs collection has another sweet area rug that perfectly captures this theme's spirit. Whimsical snails, butterflies, bees, and even a frog prince smile up at little one's curious eyes from below.
Girl's Rooms
For the Future Fashionista – Think outside of the girly pink mode by bringing your future diva home to a sophisticated black and white nursery. Studies have shown that black and white patterns are the first sense of color an infant learns. So dressing your nursery accordingly will not only stimulate her little mind but look like a page out of Vogue.

Look for damask and toile patterns for bedding and choose white, feminine-looking furniture pieces. Use accents of soft, robin's egg blue and give baby a cozy place to learn to crawl with a black and white polka dot area rug. You might also save yourself some dough with this theme – simply look for a black or white dresser and a comfy black overstuffed chair instead of a rocker. Chances are good you'll pay less than you would have for pricey pastels at your neighborhood baby store.
Boy's Rooms
For your Little Rocker – We all know the old rhyme that little boys are made of "snake, snails, and puppy dog's tails", but what about those little boys who grow up to start a rock band? If you think your little one might be born to rock, indulge your inner musician with a rock n' roll themed nursery.
Choose furniture in a black or deep brown stain. Look for bedding that features guitars, musical notes, maybe even stars. Use old drums or guitars (real or toys) to accessorize and decorate with some throw-back posters from rock's heyday. Family and friends can have fun getting in on the act with onesies featuring their favorite band's logo or by helping your little man start his own musical collection with their favorite lullaby and kid's CD's.