Little girls grow up so fast. One moment she's content to sit and play with a doll or books and the next she's got plans – big plans – for exactly how she wants her bedroom to look. Sometimes those plans include things like purple carpeting or a "princess bed."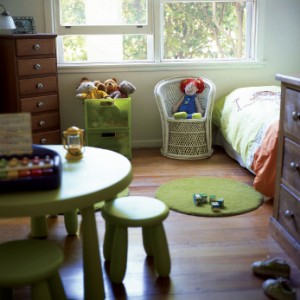 But while you should always ask for your child's input (besides, she's the one who's got to live with it), all parents have to ultimately be in charge of what that bedroom becomes. Beyond just painting the walls pink and plunking down bedroom area rugs, there are ways to indulge your little one's tastes while still maintaining a beautiful and stylish bedroom.
The following ideas will take your little girl's room to the next, very fun, level.
Paris – If you've got a girly girl in the house, indulge her with a Parisian-inspired room. Her space will look chic with ballet pink walls and white bead board. Black accents like an Eiffel Tower decal for one wall and framed silhouettes of French poodles will keep the room from being too light and fluffy. If you really want to go all in, add a street lamp in one corner, round rugs in white or beige for the floor, and a soft padded headboard that looks straight out of a fancy Paris hotel room. Invest in a small glass chandelier to suspend above the bed. Totally girly and très magnifique!
Dance – Lots of little girls (and older girls too!) love to dance. Whether it's ballet, tap, or hip hop, you can keep your tiny dancer inspired by incorporating a dance-themed décor into her bedroom. Pick up a few prints or reproductions of paintings featuring dancers. Cover the walls in decals or stencils featuring words like "jump", "dance", or "dream". Consider installing a ballet barre along one wall so that she's always got a place to stretch out and practice. A soft kids area rug will provide a great place to practice floor work. Lastly, every dancer needs music, right? Consider installing speakers in each corner near the ceiling – that way, your little one can't mess with the speakers and she can still enjoy rich, full sound when she's creating new moves to her favorite tune.
Candy – What little girl doesn't have a sweet tooth? Create a fun, Wonka-inspired room by painting with bright colors that feel like a trip to the candy store. Jelly-bean inspired tones like pale orange, bright lilac, coral, and minty green all help evoke the right spirit. Fill apothecary jars in varying styles and sizes with sweets (or just glass ones for the girl who likes to sneak in sugar before bedtime) like Swedish fish, colorful taffy, and classic pinwheel or "starlight" mints. Furniture should be white or another light color to keep the room from looking saccharine sweet or too dark.
A place in the clouds – Imagine floating away with Peter Pan on a swirl of pixie dust. That's the ethereal idea behind a bedroom with a slightly, shall we say, overcast feel. Have your girl pick out the perfect shade of blue for the walls, whether it's the slightly grey hue of dawn or the bright blue of a summer day. A canopy over the bed is a must to make her feel like she's floating on air. Add to the theme with white cloud decals for the walls. For the DIY parent out there, you can even make cloud lamps using LED lights to suspend from the ceiling. Search "cloud lamp LED tutorial" to learn how.
Punk rock princess – Not all of us are princesses. Some of us girls prefer blue jeans and rock and roll to ball gowns and waltzes. Treat the little punk rocker in your life to a rockin' bedroom with a zebra-print covered headboard, bold colored walls – think purple or electric blue – and of course, a place to play her music. Furniture should be black or white but you can paint furnishings if what you have is in a more natural hue. A mirror ball above the bed helps make sleepovers feel like a rock club. Add a black area rug or something unexpected like an orange area rug.