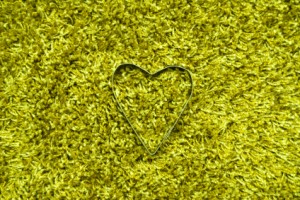 You recycle, you drive a car with great gas mileage (or maybe even a hybrid), and you do your part to support the Fair Trade movement. Now you can even make your home eco-friendly from the ground up with a rug made from sustainable materials. Here's how to find one to fit the environment you live in.
Look for Recycled Materials
High end rug manufacturers and designers have cornered the market on eco-conscious decorators. They're taking discarded or scrapped materials and turning them into pricey works of flooring art.
Designers are using old silk neckties, discarded chamois, and cotton to create one-of-a-kind rugs in eye-catching themes. Old sheets, pillowcases, and silk undergarments rescued from secondhand stores are also being turned into soft, sumptuous, yet sustainable rugs.
For a real conversation piece, look for eco friendly rugs that combines several of these reclaimed materials into one colorful, aching-to-be-touched area rug. If you have the budget for it, everyone will wonder what's the story behind yours when they come to visit.
Be Aware of Dyes
Rug manufacturers are getting the message that rug dyes often have an impact on the environment thanks to the chemicals that go into creating them. That's why more and more rug companies are choosing to use vegetable dyes in their products.
What are vegetable dyes, you ask? They're simply any type of dye that gets its origin from an organic, vegetable source. Plants like madder and indigo have been used for thousands of years to dye material, but practically anything from walnut shells to onion skins and blackberries can be used to create vegetable dye.
Combined with the process that goes into creating traditional Oriental rugs or Persian rugs, a handmade rug colored with vegetable dye is a sustainable, one-of-a-kind rug you can feel good about owning.
Consider what's Underneath
The eco-friendly trend doesn't stop just with rugs. It now extends to rug pads. Traditionally made from PVC or plastic, these non-skid mats help keep your rug from sliding around hardwood, laminate, tile or other hard-surface flooring.
A handful of companies are now making a more environmentally friendly version of these pads from open cell natural rubber. This material is found in renewable sources like rubber trees and jute. These eco-friendly rug pads are biodegradable and contain no synthetic materials yet they still hold a rug firmly in place on the floor.
Go all Natural
The simplest way to know you're getting an eco-friendly rug is to stick with rugs made from sustainable materials. For newbies to the eco-conscious game, this means steering clear of synthetic materials, especially those with names you can't pronounce or ones made from chemical processes.
Hemp is a great material for rugs and has long been regarded for its sustainability. With twice the strength of cotton, hemp is naturally mildew resistant, durable yet soft material that can be dyed a myriad of colors.
Sisal is another all-natural material popular in rug making. Tougher than hemp, it comes from a plant native to Central America but also found in East Africa, Mexico, and Java. When woven, the plant's fibers create a strong, long-lasting material with a smooth texture.
Sisal is often left un-dyed to let the true colors of the plant show through, but they can be bleached to a lighter shade.
Finally, seagrass rugs make a great addition to any eco-friendly flooring motif. This material is made from a tall plant with grass-like stems found in wetland areas. Seagrass has a strong, non-porous surface that gives it a smooth texture. It also has a grassy, almost hay-like scent that wears off over time.