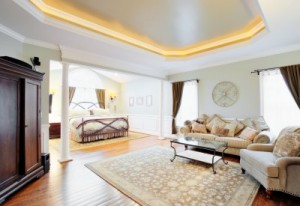 When we first purchased our home, I'll admit that I felt overwhelmed. Not only had my husband and I just taken on the biggest purchase of our lives, but we also found ourselves facing lots of blank walls and bare floors. I didn't even know where to begin!
Looking back on those days, more than anything I wanted my home to feel like a happy place that we would both look forward to coming back to day after day. Little did I know that we could influence those emotions with the colors and décor that we'd chosen, right down to the rugs beneath our feet. Take a tip from me and check out these ideas for influencing happy emotions in your home through your rug color choices.
Yellow — Alright, before you start picturing school buses and the iconic yellow "Have a nice day" smiley face, consider two things: 1) Yellow influences the brain to stimulate healing and uplifting emotions and 2) it doesn't have to be garish or bright. Picture soft, buttery tones or subtle hues that could be described as warm or golden. These are the types of yellows that you can not only live with but find energizing. Choose area rugs with yellow accents as part of a pattern or solid yellow for a great pop of color. Yellow works best with complementing colors such as blue, light green, and white.
Blue – Considered to be restful, soothing, and cool, blue has the ability to promote a sense of calm and relaxation. Picture a sunny day at the beach and what do you see? Blue water and blue skies. And who doesn't feel great at the beach, right? Bring that same feeling into your room by choosing a selection of varying shades of blue. Inject pops of color with cobalt round shapes or choose modern rugs with blue accents for just a touch of blue.
Orange – Much like yellow, orange is another shade that gets a bad rap. But instead of picturing orange highway cones or laundry detergent bottles, think of the soothing orange of sunset or the soft glow of a fireside. In truth, orange is a welcoming color that helps people feel at home and energized. The key is to pick the right shade of orange and not use too much of it, especially in a small room where it can feel overpowering. Use patterned accent rugs with orange hues in a room featuring browns and neutrals.
Green – Green is another great color in terms of creating soothing and healing emotions. We associate green with nature and it's often used to signify growth and hope. When choosing décor, stay away from dark green, which is often associated with greed, in favor of olive tones and greens that look almost blue. It's been a popular trend recently to use green in bedrooms and baths for its spa-like feeling, but it will provide a sense of freshness in any part of the house.
Patterns – Patterns are a great way to add visual interest and depth to your décor and patterned are a great place to start. Take a look at the different types that are out there and then decide whether a contemporary style or a classic or oriental style speaks to you best. To continue the theme of those happy emotions, it's best to stay away from anything too busy. This can make a room feel claustrophobic.
Finally, there are a few colors you might want to steer clear of when it comes to continuing the "happy" vibe. Red can sometimes been seen as passionate and aggressive (although some people say it helps them feel energized) and darker colors can sometimes feel drab and lifeless, especially when used in a small space. Accents of black and brown are great for furnishings with any of the above mentioned colors and provide a necessary contrast. However, when it comes to creating "happy" emotions, keep in mind that whatever colors you like and feel comfortable around should take precedent over anyone else's suggestions. After all, if it makes you happy, that's really all that matters.
Read more about area rugs and colors: