Your foyer or entryway is the first thing people see when they enter your home. It speaks volumes about your lifestyle, your tastes, and how you like to spend your time. Whether showing off that style is as simple and welcoming as a beautiful oriental area rugs or a more casual reflection of a busy lifestyle is up to you. Keeping it organized, however, is a must.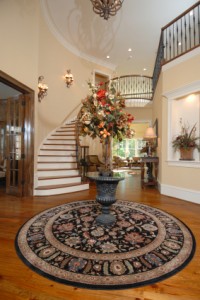 Here are a number of easy ways to pull off both:
A great rug – Roll out a warm welcome with quality area rugs placed just inside the door. If you live in a cool climate, you'll want something absorbent to keep the rain and snow from tracking into the rest of your home. Go for braided area rugs for a rustic and homey look that's easy to care for.
Organization is key – give yourself a place to put things or things will always be out of place. Even a small entryway can fit a few hooks for coats and purses. You can buy or even build a wooden shelf with pegs or hooks attached. The hooks keep you organized while the shelf becomes a great place to show off pictures, a wooden sign, or a vase of flowers.
Keep it light – Depending on how much natural light you get from your doorway, a foyer can be a dark place. Remember to keep colors light or neutral to combat this effect. Lighter shades will also make for an inviting and cheerful atmosphere when guests stop by. You can keep it from feeling too cold by adding warm wood accents in coat racks and shelving.
A small table — Many people like to place a small table just inside their foyer. It's a great "drop everything" spot. You can put down your keys and purse and sort through the mail right then and there. To keep on top of things, consider putting a basket or decorative box on top of this table to keep your papers organized in one place.
Mirrors – Not only would a mirror in the entryway serve as a great place to check your look before you dash out the door, but it also makes your entry appear larger. According to feng shui principles, a mirror in the entry way helps reflect the "chi" or good vibes that flow into your home and re-directs it to other parts of the house.
A bench — Benches are great because you can tuck shoes under them, use it as a spot to sit and put on said shoes, or to just chill out while you're waiting (and waiting, and waiting) for the lollygagger in your life to be ready to leave. Something as simple as a repurposed church pew can be just the thing here. Cover the seat with colorful upholstery to give it a cheery appearance.
Lighting – Keep lighting bright and decorative with a hanging pendant or small chandelier. Once again, your entryway makes a statement about your home's personality. A beautiful lighting fixture won't go unnoticed.
Don't forget to remember – A chalkboard or corkboard near your front door is a great place to tack up messages and reminders. You can even go all out and paint one section of the wall with chalkboard paint. Write down reminders for things you need to remember to take with you and use it as a place to make a store list when you're on the go.
A "goes upstairs" basket – A small basket near where the spot where you hang your coats can help keep your whole home organized. Place items like shoes, hats, or children's toys that need to travel to another part of the house in the basket. Save yourself a trip and grab an item or two when you pass it by.
Something uniquely you – Whether it's a cute umbrella stand, a vintage sign, or framed family snapshots, don't forget to decorate your entryway with something that's one of a kind simply because it's yours. This little touch isn't so much about who sees it. It's about having something that puts a smile on your face each time you pass it by. Now, that's something to come home to.