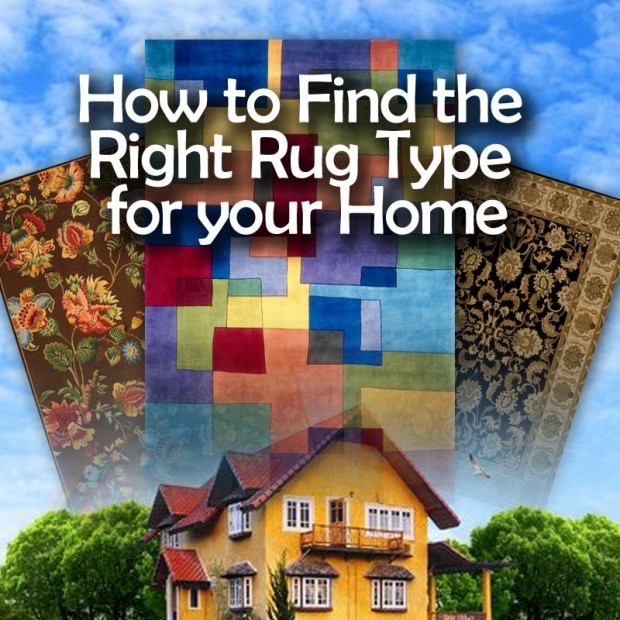 Choosing the right rug for your home can sometimes seem like a daunting endeavor. After all, it is an investment just like any other type of flooring or furniture, one that requires research and, well, a little homework. Without a guide, it can seem like the least exciting part of furnishing your home.
What's the best one for your money? Is the contemporary or oriental style more your speed? If you're in the market for new floor covering but clueless about where to begin, read on to find out what questions you should be asking to find the right one for your home.
Size
First and foremost among the list of things to consider when buying a rug is its size. The last thing you want to do is buy the wrong size for the space it's meant to occupy. So before you even think about anything else, get out your handy dandy tape measure and measure the length and width of the area in which it will eventually live.  There are a number of different ways to measure for them according to room type. Online lifestyle magazine Divine Caroline has some great advice on tackling this subject. Visit their site and search "How to Measure for an Area Rug".
Cost
It's never a good idea to fall in love before you know how much that new love will cost you. That's why it's always a good idea to establish a budget for it before you start shopping.  They can set you back anywhere from less than $100 to more than $1,000 depending on size and quality. Don't forget to factor in shipping and delivery costs as well. Give careful consideration to what you're willing to spend now and you won't feel remorse about what you spent later!
Fabric
A lot of homeowners will see the fabric that their new area rug is made from as an afterthought behind color and design when in fact it's something you should consider first. What type of foot traffic will it receive? Will a lot of people be walking on it regularly or just a few? This is an essential question to think about for the life of your area rug. Heavier fabrics like wool can handle a lot of wear and tear but a more delicate fiber such as silk should be kept in an area that will see less foot traffic.
Color
Ok, now for the fun part! Once you've laid out all the technical aspects of what you'd like, the time will come to start thinking about color and design. If you're shopping online, it's a great idea to do your shopping in the room you're buying it for, that way you're right there in front of the colors and textures that you'll be working with. It's always nice to match it's color to the room's décor, but don't be afraid to choose contrasting tones or patterns. Either will only add to the room's sophistication.
Design
Design is what separates an area rug's ability to be the center of attention or merely fade into the background, and a multitude of designs exist ready to fit every taste under the sun. Just like considering what color works best for your home's décor, you'll also want to think about design. Do you consider your tastes to be modern or contemporary? Are you looking for an antique style that will give your room a sort of boho-chic feel? Perhaps you've even thought about something totally different like an animal print or a bold geometric pattern to create a conversation piece?
Shape
The shape is another great way to add visual interest and texture to a setting. Sure, square and rectangle shapes are great, but thinking outside the box a little (literally in this case) and considering round or oval shapes will go a long way to adding depth to your space. You might even consider mixing up your shapes but keeping them in a similar pattern or color for a fun twist.