Independence Day may be the unofficial mid-point to summer, but there's still plenty of time to savor summer's warmest days before the leaves begin to fall. What better way to do just that than with an inviting outdoor living space? From affordable area rugs that will soften up your patio to dividing up a big space that's got you baffled, these quick tips can help you get inspired and well on your way to making the most of your outdoor space.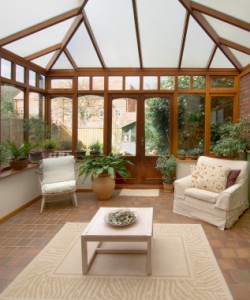 Make a plan – Just like inside your home, it's helpful to have a "map" of sorts in mind when it comes to your outdoor living space. Start by making a sketch of your patio or deck then designate specific areas for eating, cooking, and just hanging out. If you have a feature like a Jacuzzi tub or fire pit, you can position these areas around your feature to give the space a sense of purpose and flow. For example, if you can imagine your space as a wagon wheel: your feature is the center hub and your seating, grill, and other patio accessories are the spokes. Outdoor area rugs are especially helpful when it comes to defining these spaces and give your porch or patio a warm and comfortable appeal.
Consider your needs and wants — What's the right space for your family's age and tastes? Is the backyard a place for the kids to congregate and play? Don't forget to add in fun touches they'll love like an inflatable movie screen. Is it a hidden retreat to relax at the end of the day? Invest in a conversation set with comfy Adirondack chairs around a fire pit and subtle touches like hanging lanterns to set the mood. Is it a place to entertain? Consider adding a large, wooden table (just make sure it has a protective finish that won't warp in the elements) with a market umbrella and comfy cushions for the chairs. Don't forget to add oversized area rugs underfoot for added style. Your guests will want to stay all night!
Time it right – Outdoor furniture and décor can be expensive. But it's not without reason: the materials we use outside have to be able to withstand thunderstorms, strong winds, and the sun's unforgiving rays. Fortunately, midsummer is a great time to find sales and discounts on the outdoor pieces that were at such a premium before Memorial Day. Pricey teak benches, market umbrellas, and jute area rugs can sometimes be found at a fraction of the cost.
Focus on the fun – Your outdoor room is a great place to let your sense of fun and adventure come alive. Once you've chosen your furniture, accessorize it with stylish decorative pillows. You can pick a pattern or colors that compliment your chair cushions or add something fun and unexpected like one with a skull pattern (for a sea-worthy pirate look) or featuring hula girls (for a sexy Hawaiian feel). Added touches like a stylish beverage cart and a new set of melamine outdoor plates and glassware (no disposable stuff here!) make the place feel special. Don't want to invest a lot in outdoor lighting? Go DIY and hang Mason jars from nearby trees. Add a few tea lights or votive candles inside the jars and – voila – instant enchantment!
If it's not pretty, cover it up — Finally, don't forget about storage. You and your guests both know it took more than few yard and cleaning tools to make your place look gorgeous, but that doesn't mean you have to look at them. If you have no place else to put them, stash brooms and rakes in an out-of-the way corner and cover with a tarp. Stack firewood in a neat pile near your fire pit or invest in a plastic garden box meant to keep wood dry all year round. Choose a pretty waste can, preferably with a lid, and place nearest to where food is served so guests always know what to do with their empties. Covers for furniture, fire pit, and hot tub should always be folded and placed out of the way.