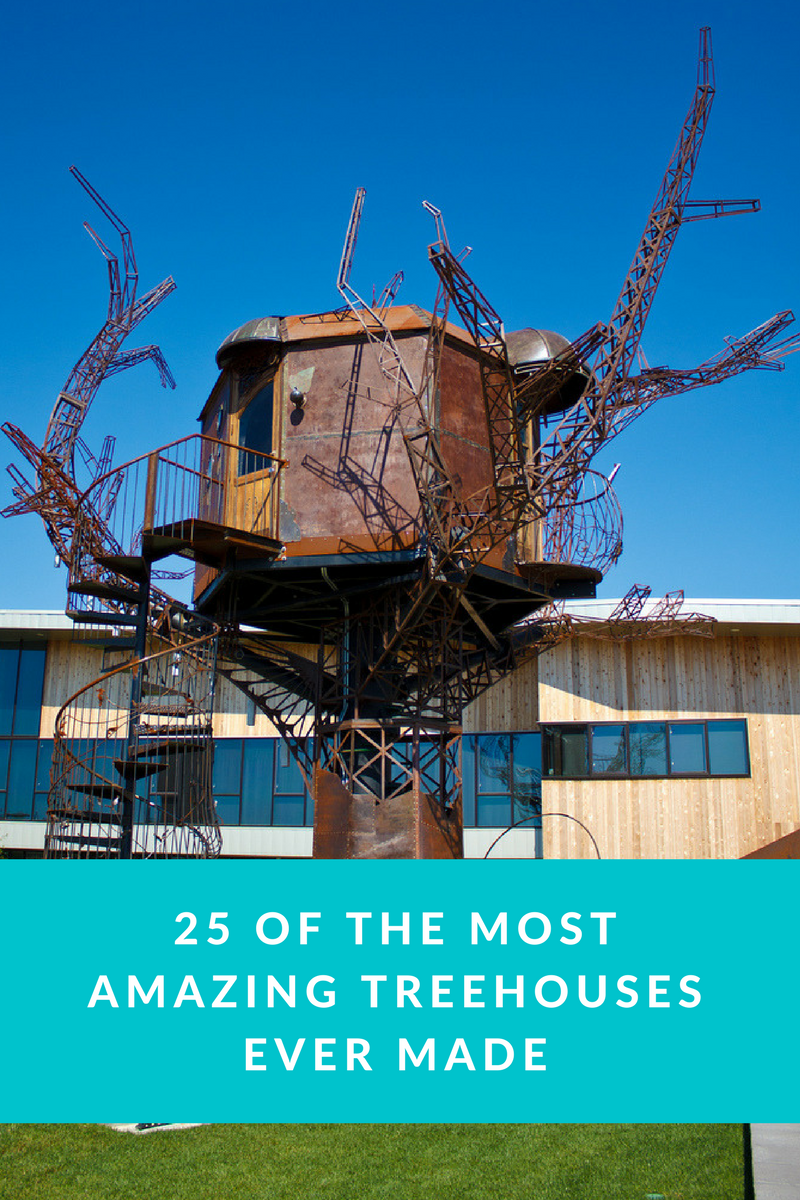 Photo: Chris Potako – Dogfish Head Treehouse – Creative Commons License – Modified: Text Added
Most people's fascination with treehouses stems from their childhood. But one thing is for sure – tree houses are just super cool. From stylish, innovative structures that seem to defy the laws of the physics to abodes that seem to have jumped out of a Dr. Seuss book, we've found some of the most amazing treehouses ever made.
1. Enchanted Forest
Jack and the Beanstalk meet Hansel and Gretel in this Canadian Rockies fairy-tale treehouse. The entrance is guarded with phantasmagoric mushrooms that surround a spiral stairway leading to four different levels.
http://www.pinterest.com/pin/95631192064374493/
2. I've Got My Eye on You
This Free Spirit Sphere treehouse created by designer Tom Chudleigh looks like a giant eyeball that coexists unnoticeable with its forest environment. A series of ropes connects these round treehouses to the surrounding trees. A spiral staircase leads to the front door by wrapping around an anchor tree.
http://beautifulabodes.blogspot.com/2011/01/treehouse-that-your-dad-didnt-build-for.html
3. Translucent Treehouse
This magnificent design by architect Aibek Almasov is located in the mountains of Almaty in Kazakhstan. The project, known as Tree in the House, was intended as a concept for a modern spiritual retreat. This cylindrical, four-story glass space features an encased tree in the center and a winding white staircase that spirals upward around the centric tree.
http://www.pinterest.com/pin/95631192066088791/
4. Fairytale House
This treehouse built by Kenyan brothers Simon and Andy of the family-run Blue Forest is set in the English countryside with pheasants, grouse, and deer. The house, called Living the Highlife, lives up to its name with an almost $400k price tag. http://www.pinterest.com/pin/95631192066043236/
5. Serenity Now House
With its bottom seating area suspended in the air, relaxation seems to be no problem in this thatched roof getaway. You can enjoy some peace and quiet while being completely in tune with your natural surroundings.
https://www.pinterest.com/pin/95631192064721673/
6. Giant Treehouse
Built on a foundation of a group of trees, this house located in Alnwick Castle, UK is one of the largest treehouses in the world! It is open to the public and is a local monument.
https://www.pinterest.com/pin/95631192060826457/
7. Magical Treehouse
This little treehouse village looks like something right out of a Dr. Seuss book! Located in New Hampshire, these houses are colorful and magical and seem to be perspectivly all wrong!
https://www.pinterest.com/pin/95631192061618494/
8. Treehouse Hotel
Located in northern Switzerland, this tree shelter hangs in the trunk of a lightweight aluminum structure and is covered in mirrored glass. The mirrors act as a camouflage by reflecting the surrounding scenery and blue skies. The interior is made entirely of plywood. https://www.pinterest.com/pin/95631192063941464/
9. Verde Tree Apartments
Italian architect Luciano Pia takes the treehouse concept to the extreme with this five-storey apartment complex. It consists of 63 apartments surrounded by 150 trees.  A courtyard of a further 50 trees and a ground floor reflection pond add to the forest ambiance. The plants act as insulators giving Verde its own steady microclimate.
http://www.stuff.co.nz/life-style/home-property/67475258/Is-this-the-worlds-biggest-tree-house
10. Yellow Treehouse
What makes this treehouse different is the fact that it's not a house at all – It's a restaurant! How cool is that? This masterpiece is built into a 40-meter tall Redwood tree and was created by the team at Pacific Environments Architects. To get to the dining area, you must walk down a long, illuminated bridge.
https://www.pinterest.com/pin/95631192064350548/
11. Treehouse Cabin
This elevated cabin is located amongst the mountains of Vail, Colorado. It was designed with adults in mind by architect Missy Brown. Enjoy an ice-cold summer-time beer on the awesome rooftop patio.
http://hiconsumption.com/2014/03/forever-young-the-18-greatest-tree-houses-for-adults/
12. Pinetree House
These concept treehouses are amazing with how modern and futuristic they are. The completely sustainable homes were designed by architect Konrad Wojcik and contain a bio-digester to recycle human waste, solar panels, and 4 floors.
https://www.pinterest.com/pin/95631192064166145/
13. Secret Hemloft Treehouse
Sitting in the woods of Whistler, B.C., was a secret treehouse. A secret no more thanks to the internet, this unique structure was created by Joel Allen using nothing but free materials he sourced from Craigslist.
http://www.homedsgn.com/2012/04/27/secret-hemloft-treehouse-by-joel-allen-video/
14. Lion Sands Treehouse
This treehouse places you right in the heart of a South African reserve. You can experience everything the reserve has to offer including its residents – birds, leopards, hippos, lions,  and much more especially after dark!
http://www.blessthisstuff.com/stuff/culture/travel/lion-sands-south-africa/
15. The Birds Nest
This treehouse lives up to its name by looking like a giant bird's nest. Though the outside appears rustic and primitive, the inside is full of modern conveniences. The oversized bird's nest was designed by Indrednin Gspruppen.
https://www.pinterest.com/pin/169236898470519765/
16. Boeing 727 Plane Treehouse
How awesome is this treehouse made from a vintage 1965 Boeing 727 airplane? The unique treehouse is located in Costa Rica and has been transformed into a hotel. Prices start at $250 per night for a room.
https://www.pinterest.com/pin/402298179187712381/
17. UFO Treehouse
This UFO inspired Sweden-based Treehotel is nothing short of amazing. It even has a fog effect that makes it look like it's coming down from the sky to make contact with planet Earth. At $600 a night though, it should actually fly!
http://www.thisiscolossal.com/2011/10/a-ufo-treehouse-hotel/
18. Teahouse Tetsu
Combining fantasy with minimalism, architect Terunobu Fujimori's treehouse resembles something from a fairytale. Great contemporary area rugs could jazz up the rather simplistic interior however.
https://www.pinterest.com/pin/487233253413938223/
19. La Casa Del Arbol
Ever wanted to have a glimpse of the edge of the world? This one-of-a-kind treehouse has a swing that soars 2,660 meters above sea level over the Ecuadorian city of Banos.
https://www.pinterest.com/pin/95631192063853032/
20. Tree Snake Houses
The structure located in Portugal, looks like a snake slithering amongst the trees. Using materials that can blend in with their surroundings, the architects used a new technology which allows a weightless easy-carrying structure.
Tree Snake Houses / Luís Rebelo de Andrade & Tiago Rebelo de Andrade
21. Tree in the House
In the mountainous city of Almaty in Kazakhstan lies a transparent cylindrical volume with an empty core that contains a towering tree. The structure is camouflaged amongst the trees giving you the feeling you are one with nature.
https://www.pinterest.com/pin/95631192066088791/
22. E'terra Samara Retreat
Consisting of twelve treehouse villas, this five-star eco-resort is situated in Canada's Bruce Peninsula forest. The suspended treehouse is suspended giving it the appearance that it's hugging the tree. An area rug in the living quarters would add a little more warmth on those chilly nights!
https://www.pinterest.com/pin/135178426287310846/
23. The Cocoon
This giant wooden cocoon was visualized to be a quiet getaway by the students from London's Architectural Association who built it. It sits suspended between the trees perfect for sitting and watching the sunset.
http://inhabitat.com/aa-students-build-a-lightweight-cocoon-treehouse-retreat-in-england/cocoon-aa-design-make-1/
24. Wilkinson Residence
Found in Portland, Oregon, this treehouse is built on a flag lot. The building was built to enhance the natural landscape as well as the flow of music. The interior is decorated to perfection with modern furniture, colorful area rugs, and stone floors. http://www.home-reviews.com/robert-harvey-oshatz-project-wilkinson-residence-treehouse
25. Horace Burgess's Treehouse
With 14 years in the making, this massive treehouse is located in Crossville, Tennesse. It's 97 feet tall and uses a total of 6 trees as its base.
https://www.pinterest.com/pin/95631192064350553/